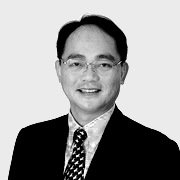 Dato' Larry Gan
Non-Executive Chairman
[et_pb_section fb_built="1" admin_label="section" _builder_version="3.22"][et_pb_row admin_label="row" _builder_version="3.25" background_size="initial" background_position="top_left" background_repeat="repeat"][et_pb_column type="4_4" _builder_version="3.25" custom_padding="|||" custom_padding__hover="|||"][et_pb_text admin_label="Text" _builder_version="4.9.1" background_size="initial" background_position="top_left" background_repeat="repeat"]
Dato' Larry Gan Nyap Liou ("Dato' Larry"), is a trained chartered accountant and a certified management consultant.
He spent 26 years with Accenture, the world's leading consulting firm. He was the Managing Partner for Accenture Asia, and between 1999 to 2003 he managed the firm's multibillion dollar Venture Fund in Asia Pacific and concluded investments in China, Japan, Australia and Singapore. Also, he held many global leadership roles, consulted on strategic projects for multinational corporations and worked with innovative technologies around the world.
He served as Chairman of the Association in Computer Industry Malaysia ("PIKOM"), Vice-President of the Association of Asian Oceania Computer Industry Organization, and a Member of the Minister of Science & Technology Think Tank, Copyright Tribunal, Labuan International Financial Exchange Committee, MIMOS Berhad (Government Technology Research) and the Malaysia US Business Council.
Presently, he is the Chairman of Rev Asia Berhad and Board Member of the Minority Shareholder Watchdog Group and the British Malaysian Chamber of Commerce. He was formerly the chairman of Cuscapi Berhad, Diversified Gateway Solutions Berhad, as well as a director of Amcorp Properties Berhad, Formis Resources Berhad, Tien Wah Press Holdings Berhad, and ASX-listed iProperty Group Ltd (ASX: IPP).
[/et_pb_text][/et_pb_column][/et_pb_row][/et_pb_section]